Virginia State Police - Divisions 4 and 6
Feed Status: Listeners:
4
00:00
A brief 15-30 sec ad will play at
the start of this feed.
No ads for Premium Subscribers
---
Div. 4 - counties Bland, Buchanan, Carroll, Dickenson, Giles, Grayson, Lee, Pulaski, Russell, Scott, Smyth, Tazewell, Washington, Wise, and Wythe
---
Digital SDR for Virginia STARS P25 system. Connected to Beamers Knob tower in Carroll County, VA.
Using sdrtrunk software.
Div 4 HQ is in Whyte County. Div 6 HQ is in Roanoke County.
Can also hear Virginia Department of Transportation Safety Service Patrol which is ID 5280 Alpha tag DOT-Tac2.
This feed may not be able to hear all the State Troopers in this area but Dispatch for Div 4 & 6 is clear.
VSP Wyt 1 has priority.
Medflight is a medevac the State Police operates.
Unkown how much the mutual aid channels are used.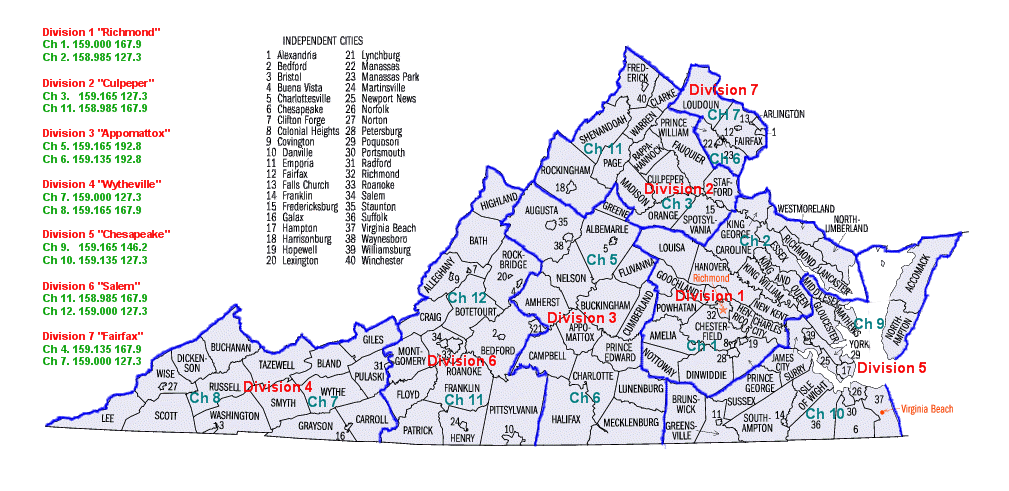 Virginia State Police Talkgroups
| DEC | HEX | Mode | Alpha Tag | Description | Tag |
| --- | --- | --- | --- | --- | --- |
| 751 | 2ef | D | VSP Wyt 1 | Wytheville 1 | Law Dispatch |
| 752 | 2f0 | D | VSP Wyt Tac1 | Wytheville Tac 1 | Law Tac |
| 753 | 2f1 | D | VSP Wyt 2 | Wytheville 2 | Law Dispatch |
| 754 | 2f2 | D | VSP Wyt Tac2 | Wytheville Tac 2 | Law Tac |
| 755 | 2f3 | D | VSP Wyt Tac | Divison 4 Tac | Law Tac |
| 756 | 2f4 | D | VSP Wyt Blue | Blue 4 | Law Tac |
| 757 | 2f5 | D | VSP Wyt Red | Red 4 | Law Tac |
| 783 | 30f | D | VSP Wyt 3 | Wytheville 3 | Law Dispatch |
| 784 | 310 | D | VSP Wyt Tac3 | Wytheville Tac 3 | Law Tac |
| 767 | 2ff | D | VSP Sal 1 | Salem 1 | Law Dispatch |
| | | | | |
| --- | --- | --- | --- | --- |
| 5280 | 14a0 | D | DOT Tac 2 | Tac 2 (Safety Service Patrol - Salem) |
Mutual Aid Groups
| DEC | HEX | Mode | Alpha Tag | Description | Tag |
| --- | --- | --- | --- | --- | --- |
| 6122 | 17ea | D | VA MCall 1 | MCall 1 | Interop |
| 6123 | 17eb | D | VA Comlinc 1 | Comlinc 1 | Interop |
| 6124 | 17ec | D | VA Mutual 1 | Mutual 1 | Interop |
| 6125 | 17ed | D | VA CmdPost 1 | Command Post 1 | Interop |
| 6126 | 17ee | D | VA PubServ 1 | Public Service 1 | Interop |
| 6127 | 17ef | D | VA Comlinc 1 | Comlinc 1 | Interop |
| 6128 | 17f0 | D | VA MCall 2 | MCall 2 | Interop |
| 6129 | 17f1 | D | VA Comlinc 2 | Comlinc 2 | Interop |
| 6130 | 17f2 | D | VA Mutual 2 | Mutual 2 | Interop |
| 6131 | 17f3 | D | VA CmdPost 2 | Command Post 2 | Interop |
| 6132 | 17f4 | D | VA PubServ 2 | Public Service 2 | Interop |
| 6133 | 17f5 | D | VA Comlinc 2 | Comlinc 2 | Interop |
| 6134 | 17f6 | D | VA MCall 3 | MCall 3 | Interop |
| 6135 | 17f7 | D | VA Comlinc 3 | Comlinc 3 | Interop |
| 6136 | 17f8 | D | VA Mutual 3 | Mutual 3 | Interop |
| 6137 | 17f9 | D | VA CmdPost 3 | Command Post 3 | Interop |
| 6138 | 17fa | D | VA PubServ 3 | Public Service 3 | Interop |
| 6139 | 17fb | D | VA Comlinc 3 | Comlinc 3 | Interop |
| 6140 | 17fc | D | VA MCall 5 | MCall 5 | Interop |
| 6141 | 17fd | D | VA Comlinc 5 | Comlinc 5 | Interop |
| 6142 | 17fe | D | VA Mutual 5 | Mutual 5 | Interop |
| 6143 | 17ff | D | VA CmdPost 5 | Command Post 5 | Interop |
| 6144 | 1800 | D | VA PubServ 5 | Public Service 5 | Interop |
| 6145 | 1801 | D | VA Comlinc 5 | Comlinc 5 | Interop |
| 6146 | 1802 | D | VA MCall 7 | MCall 7 | Interop |
| 6147 | 1803 | D | VA Comlinc 7 | Comlinc 7 | Interop |
| 6148 | 1804 | D | VA Mutual 7 | Mutual 7 | Interop |
| 6149 | 1805 | D | VA CmdPost 7 | Command Post 7 | Interop |
| 6150 | 1806 | D | VA PubServ 7 | Public Service 7 | Interop |
| 6151 | 1807 | D | VA Comlinc 7 | Comlinc 7 | Interop |
| 6152 | 1808 | D | VA MCommand1 | MCommand 1 | Interop |
| 6154 | 180a | D | VA State 1 | State 1 | Interop |
| 6155 | 180b | D | VA Mgmt A | Management A | Interop |
| 6372 | 18e4 | D | VA MCall 4 | MCall 4 | Interop |
| 6373 | 18e5 | D | VA Comlinc 4 | Comlinc 4 | Interop |
| 6374 | 18e6 | D | VA Mutual 4 | Mutual 4 | Interop |
| 6375 | 18e7 | D | VA CmdPost 4 | Command Post 4 | Interop |
| 6376 | 18e8 | D | VA PubServ 4 | Public Service 4 | Interop |
| 6377 | 18e9 | D | VA Comlinc 4 | Comlinc 4 | Interop |
| 6378 | 18ea | D | VA MCall 6 | MCall 6 | Interop |
| 6379 | 18eb | D | VA Comlinc 6 | Comlinc 6 | Interop |
| 6380 | 18ec | D | VA Mutual 6 | Mutual 6 | Interop |
| 6381 | 18ed | D | VA CmdPost 6 | Command Post 6 | Interop |
| 6382 | 18ee | D | VA PubServ 6 | Public Service 6 | Interop |
| 6383 | 18ef | D | VA Comlinc 6 | Comlinc 6 | Interop |
| 6387 | 18f3 | D | VA Mut Inv 6 | Mutual Investigation 6 | Interop |
Department of Emergency Management Talkgroups
| DEC | HEX | Mode | Alpha Tag | Description | Tag |
| --- | --- | --- | --- | --- | --- |
| 83 | 053 | De | DEM MedflightDsp | Medflight Dispatch | EMS Dispatch |